How long does the trip take?
Your float time on the river can last anywhere from 1 hour and 45 minutes to 2 hours, depending on the time of year and river flows. Door to door our trips typically last 2.5 to 3 hours total time if you will be meeting us in Moose. If you are meeting us in the town of Jackson, round trip will be 3 to 3.5 hours. The actual river time remains the same. The additional time accounts for transport, restroom use, and a safety briefing prior to the launch.
How do I get back to my car?
We will pick you up at one of two designated parking areas specific to the trip time you have chosen. Guests meeting us in Moose will be greeted by the guide, and then he will drive you 10 miles north to our Launch point and float you back to the area where we picked you up near your car. Those with a pick up location in the town of Jackson will be met at the take out location for a short shuttle back to the town of Jackson to the Snow King Sports and Event Center where your car is parked.
Where do we meet you?
Depending on which time you have reserved with us we will meet you either in the designated float trip parking area near the Grand Teton National Park Headquarters buildings in a town called Moose, Wyoming; or, we will pick you up at the Snow King Sports and Event Center parking area in the town of Jackson. Reminder: One trip, two meeting locations!
The Moose parking lot is located across the street from the Craig Thomas Discovery and Visitor Center. Because it is a parking lot, we are unable to provide an address for use of a GPS. A generalized area of where we meet is 1 Teton Park Road, Moose, Wyoming 83012.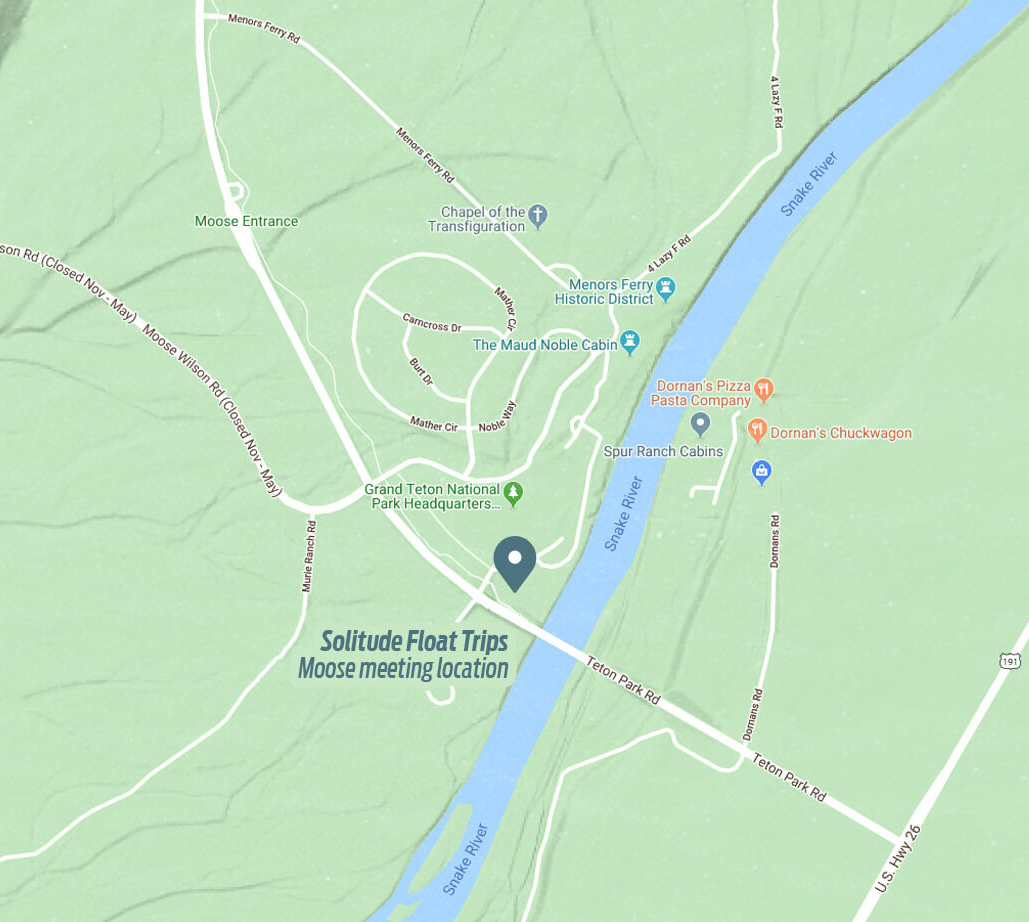 The Snow King Parking lot is located on Snow King Avenue below the Ice arena at Snow King Sports and Event Center.
Because it is a parking lot, we are unable to provide an address for use of a GPS. A generalized area of this meeting location is 152 East Snow King Avenue, Jackson, Wyoming, 83001.


Please be certain of your time and meeting location. You may call our office 307-733-2871 or email [email protected] to help decide which trip is best for you. You may also contact us if you need specific directions, rather than using a GPS, as navigating systems are unreliable in our area. Many roads that you will want to access are seasonally closed, and a GPS can take you miles out of your way. Also, if you enter Solitude Float Trips into your navigation system you will be directed to our office – which is not where our guides meet our guests.
Please note, we are unable to pick you up at your hotel or at any other location other than the two designated float trip parking areas in Moose or in Jackson (this includes Deadman's Bar).
What time do we need to arrive?
Please be in the float trip parking area and out of your car ready to go 5-10 minutes before your scheduled trip time.  There is no reason to arrive any earlier unless you choose to do so as a matter of personal preference.   We recognize that any number of issues can cause delays.  We request that you call our office at 307-733-2871 if you are running late.  We will do our best to wait for you, but please keep in mind that you are joining others on this trip (unless you have reserved a private raft).  They have taken the time and effort to show up promptly and we have a duty to all guests to be respectful of their time.
What is your cancellation policy?
For a party of 1-10 – rescheduling or canceling for any reason at least 24 hours prior to the time of your trip will result in a full refund
For groups of 11 or more or private rafts – we require at least one week prior notice
For 2 or more private boats – we require at least 2 weeks prior notice
We feel this is a very generous policy; therefore, we strictly adhere to this policy because we have a limited number of rafts allocated to us annually by GTNP and many people who wish to experience the Snake River through our company.  This is an extremely popular activity and we regularly turn people away.  Notifying us in advance gives us time to offer your seat to others.
We understand there are times that you will be unable to notify us before the cancellation deadline due to illness, flight cancellation, or other unforeseen circumstances.  If this happens, we will do our best to sell your seats and you will be refunded based on the number we are able to sell.  If we are unable to sell any of your seats, you will not receive a refund of any kind.   Just like other entertainment venues this is an assigned seat you have purchased.  If you are not comfortable with this policy please consider reserving the day of; however, seats may or may not be available.
What about bad weather? What do we do if it rains?
We request you meet our guides at your designated trip time regardless of the weather.  Unless there is an added risk due to the weather, or it is going to make the trip unbearable we usually float.  If you should get caught in rain we will provide ponchos.   Weather in the mountains can change quickly, and we watch radar constantly.  Rain showers typically last about 15 minutes and might delay the launch, but it is usually not cancelled.   The average rainfall in this area between May 15th and September 30th    over the past 5 years is 4.19 inches.  If the guide chooses to cancel, or he gives you the option, and you do not want to go, we will do our best to reschedule you.  If rescheduling at this point is not possible we will refund your payment entirely.
When is the best time to go? When will I see wildlife?
All of our trips are unique and offer different advantages.  As for wildlife, the conventional wisdom is that animals are more active during the early morning or late evening hours.  While this might be true, we have found that our early afternoon trips have proven to be just as reliable for spotting wildlife.  Because of how unpredictable wildlife sightings are, we recommend you choose your trip time based on a schedule that works for you.  The 9:30 allows a leisurely start to the day, off the river by noon and the rest of your day to plan other activities.  The 1:30 is the perfect relaxing activity after lunch, usually warm but not ever too warm.  After an adventurous day, you can relax on an evening trip. It is a very peaceful time to be on the river. The shadows are long and dramatic with wonderful photo opportunities and a great way to end the day.  We assure you the Teton Range is consistently stunning at all times of day, and our guides are all entertaining and knowledgeable.
Will I get wet? Can I bring a nice camera?
Our scenic floats are mild and you should stay dry. This includes your feet getting in and out of the boat. With that said, we encourage you to bring cameras and binoculars, should you desire, but at your own risk.
Are there age restrictions? Am I too old to go?
Children: In order to participate in the scenic float, your child must be at least five years old and weigh at least 50 pounds. This will ensure that she is properly fitted for a personal flotation device (PFD or life jacket).  Additionally, consider your child's attention span as the trip is about two hours in duration (2.5 counting shuttle) with no stops (or restroom breaks) on the river.
Older Adults: We welcome older adults to participate in our scenic floats. Should you have concerns about the trip, please review the athletic/fit for more information.  If you have special concerns it might be best for you to call the office to describe your specific situation as a person must be able to self-rescue in the unlikely event that it should become necessary.
Are there weight restrictions?
All guests must be properly fitted in one of our adult USCG Approved Personal Floatation Devices in order to participate in a float trip. This generally means adult guests must weigh between 90-260lbs with a chest size not to exceed 56 inches.  Should you be interested in floating with us and do not meet these guidelines we ask that you call our office to discuss possible options.  Additionally, for your safety we request that you honestly reflect upon the mobility requirements listed below.
How athletic/fit do I need to be?
While a scenic float is not necessarily an athletic activity per se, some agility and mobility is required. Drivers and guides can offer some assistance to you, but you must be fundamentally responsible for yourself throughout the course of the trip.
Specifically, you will be transported in a 15-passenger van, which will require you to step up into the van and possibly climb into the back, if necessary.  You will ride in the van for a short shuttle (15-20 mins) to the launch.  At the launch, you will need to be able to climb three steps onto the trailer we use for a dock.  Once on the trailer, you will walk approximately 16 feet to the raft where you will be required to step down into the raft (approximately 18-20 inches).  Once on the raft, you will sit on the tube of the raft.  Please note there is no cover on the raft for shade or solid back support.  When you disembark, you will be asked to walk on uneven ground up a river bank approximately 5 yards until you reach flat pavement.  You are then approximately 100 yards from where your car is parked.  The landing area changes depending on the time of year, with there being little room to maneuver when the water is high (typically May – July).
Please note it is very difficult for our office staff to assess your particular situation from afar. We ask that you reflect upon these requirements honestly and determine for yourself if you believe you are capable of participating in this activity.
How soon should I book my trip?
We have limited seating, and we regularly turn people away, so we recommend booking as soon as you know your plans.  Obviously, the larger your party is the more difficult it will be to accommodate if you wait.  We do ask you to refer to our cancelation policy any time you reserve ahead of time.
Will there be other people on the raft? How many?
Our rafts are large, and are custom built for this stretch of river.  We typically put 12 people on a raft though the rafts will accommodate more.   Our guide will be rowing and navigating the combined weight of the guests and the weight of the raft.  Limiting the number of people also allows for plenty of elbow room, and a small back pack.  If you prefer not to share the guide or raft with others you may opt to reserve a private raft.  We have a limited number of rafts that we are permitted to launch, and provided we have the availability you can reserve a private float trip.
What should I wear?
You should not get wet on this trip, so wear what you are comfortable in.  It can be a little cooler on the river so if you step outside, and you are comfortable with what you are wearing grab one more layer – just in case.  Feel free to bring a small back pack for your personal belongings; just don't leave anything in the shuttle van as you won't be back in the van after your float trip. Even your feet should not get wet, so you can wear most shoes like tennis shoes or flip-flops.  We just ask that you not wear shoes that could damage the raft, such as cleated hiking boots, sandals with heels, or other hard soled shoes.
What should I bring on a float trip?
We'll provide you with a personal flotation device (PFD), a rain poncho in the event of a sudden mountain shower, and water for your refillable water bottle. You are encouraged to bring a camera, binoculars, light jacket for cooler temperatures, and a small backpack for extra layers as well as any snacks you may want.
Is the Snake River dangerous?
The section of the Snake River we float is classified as a class I-II river. There is no whitewater on our stretch so you will most likely not get wet. There are other sections of the Snake River that contain whitewater rapids however, our float trip is dry and mild. The water is calm and the current allows you ample time to enjoy the scenery, view wildlife, and enjoy spectacular scenery all within the heart of Grand Teton National Park.
How cold is the Snake River?
The water temperature is usually in the low 40s to low 50s in May and early June. The river warms up during late June, July and August typically averaging upper 50's to low 60's before cooling back down to the low 50's in September. However, you will not be getting wet on our scenic interpretive float trips.
Why is the Snake River famous?
The Snake River is one of the largest rivers of the Pacific Northwest and the ninth longest river in the United States at over 1,000 miles. The Snake River runs through six states as well as both Yellowstone National Park and Grand Teton National Park. The Snake River is also part of the National Wild and Scenic Rivers system and the section we float is the only stretch designated as "scenic".
What do you eat on a float trip?
You are welcome to bring your own snacks as well as your personal refillable water bottle. Due to our location inside Grand Teton National Park and our contract with the National Park Service, we are not authorized to provide meals on our float trips. Private raft reservations may bring along food and snacks as well as any beverages you desire. The float trip is approximately 2 ½ to 3 hours round trip.
How much does a float trip cost?
Our float trips are $105 for adults and $85 for children 15 and under. Guests can save $5 per person when reserving their river trip online at www.sftjh.com.
What else do I need to pay for?
It is very unusual to purchase anything and not get hit with those hidden fees! With us, our price is final. We have one price for adults, a price for kids 5-15, and a price for a private raft. When booking online you will see a $5 per person discount when you get to the payment section of reserving your trip with us – no added taxes or fees! If you wish to tip it is certainly appreciated but not expected. If you do provide gratuity cash or Venmo is easiest for your guide!